Interior Trend: Home Office Decor 2020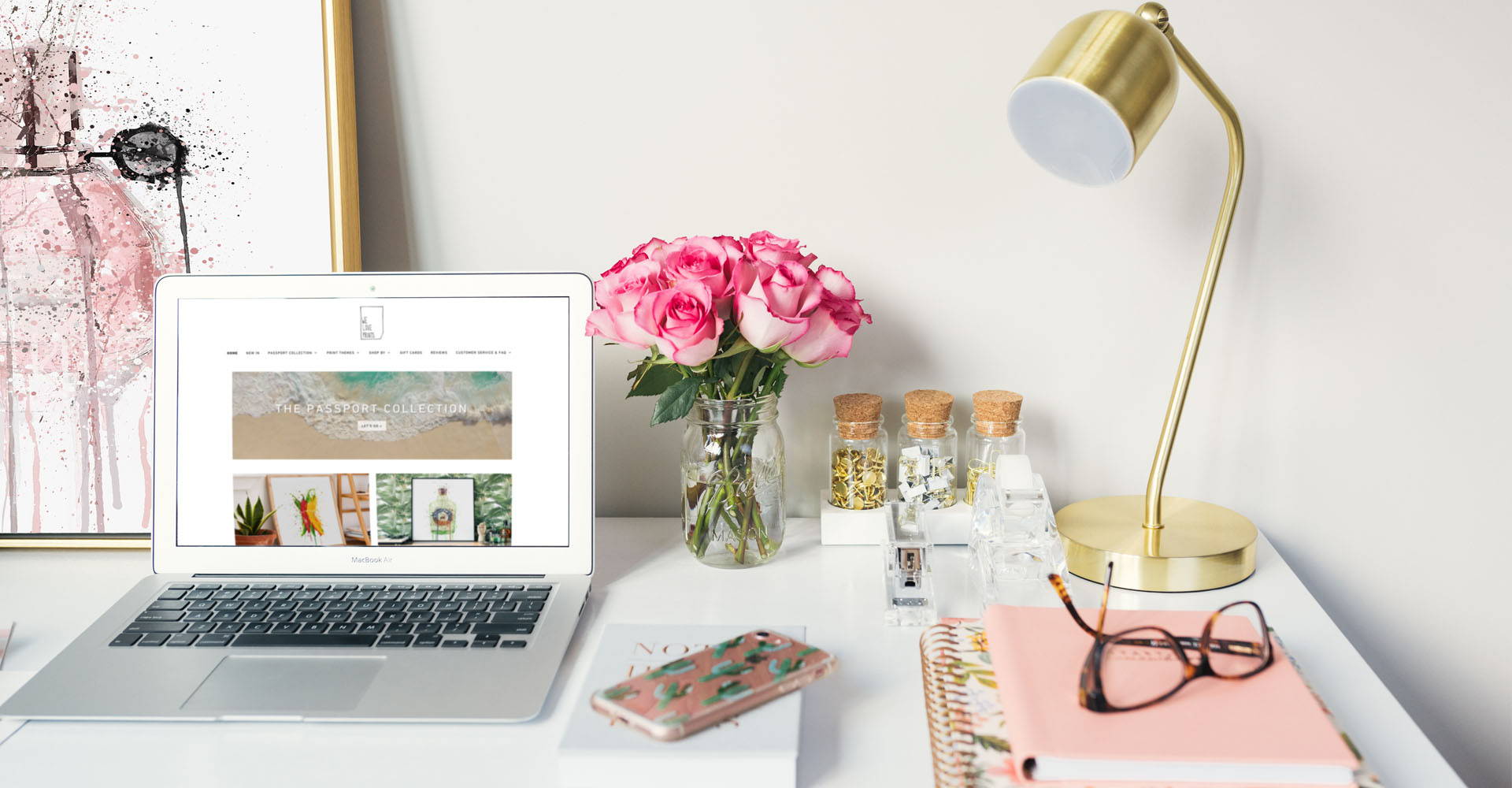 None of us could have expected the home interior trend of 2020 to be mandatory or necessary. The unexpected task of working from home meant creating a home office or home working space, forcing us to rearrange our furniture, set up a working space on our dining tables or turn our spare room into a home office.
Before we get into the organisation, the office interior or style, we need to get practical. Decide on how much working space you need, what options you have, what's going to feel good (remember you are going to spend a long time there) but above all else… Are you close to plug sockets? Yes, there are extension cables but you and I both know that's going to get pretty annoying after you trip over them for the tenth time.
Low on space? What about your kitchen
If you are working from your dining table you can either set up a permanent working space for Monday to Friday or box up your office each night, treating it like a hot desk situation. Whichever you choose for your kitchen office you deserve to work in a space that makes you happy.
Known to reduce stress and increase productivity plants are a great addition to your working space, There's a lot you can do to create a dedicated working space and now that you don't have to consider your colleagues opinions (#addedbonus) you can add all those finishing touches that make you smile. Create depth and add height to your work space by adding framed photos, candles, jars for stationary and magazines or books for when you need that break or inspiration. When curating a working space, stand back and check that it's both functional and practical, not words that fill us with joy, but important for getting the job done. With that aside it has to feel nice, if you are pleased with your home office space it makes the time you will spend there more enjoyable.
If you're decorating on a budget it's time to get creative. Old jars filled with stationary, flowers or even a plant are a stylish home interior addition to your working space. Gift boxes are a great way to store papers or documents. Have a rummage round your home to see what's hidden away, get creative and figure out what would make a great addition to your new working space.
Typographical designs are a  staple choice for many home office art prints. Our range of typographical wall art prints can help to create a more positive working environment by displaying motivational or calming messaging on your walls. Tap here to see more.
Convert Your Spare Room or Cupboard
If you are lucky enough to be turning a spare room into a home office you have the opportunity to create a permanent office set up. Stage one is declutter, it's time to get rid of the broken clothes horse, shift the dusty dumbbells and take all those bagged up clothes to the charity shop. Once all that's done you can really get started.
If you are going for a complete small room renovation you may be painting the walls. Try not to get too caught up in light and neutral colours versus dark and rich colours. Often people say that light colours help give the feeling of space in a smaller room but this can still be achieved if using darker colours with lighter furniture and finishings. Go for what you love. If you are going for the office or small bedroom interiors overhaul then make sure you dress those walls with some stylish art wall prints and photos. If you are in a space with limited or no sunshine add some botanical prints to your walls to give you that pop of green you need. Click here to check out our own collection of Botanical Prints for some inspiration.
make it Comfortable And Functional
When it comes to your working space you may opt for a stand alone desk or a floating desk attached to your wall, either way make sure you have the space you need to work on and don't forget those power sockets. Again, your working space has to be functional and practical, but make it what you need it to be - elegant, fun, stylish. Dress the area in a way that reflects and inspires you.
Whether you are working from your kitchen table or setting up your home office in its own space you need to be comfortable. If you are purchasing a new chair make sure you read reviews before you buy and if you are using a dining chair keep a cushion to hand. Whatever route you go down make sure you take breaks, get up and walk around, perhaps even break into a dance routine… You're at home so why not.
Avoid Those Video Conference Mishaps
It's important to feel happy in your home office or working space so do what you can to make it right for you. In addition and as a last note remember to think about those Zoom Calls or Video Conference Calls. You are essentially inviting colleagues into your home - You never thought Karen from Finance would be having a look in your home did you? If you have a window behind you and no front on lighting you will appear as a silhouette so a desk lamp can be a beneficial addition. Raising your laptop or phone so the camera is at head height will give you a much more professional (flattering) angel. If you have any laundry in the background make sure your undergarments are hidden, we need to have some secrets in life.
If you would like to keep updated with our latest blogs, news, offers and competitions, you can sign up to our newsletter below.
---